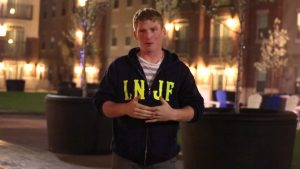 Stuart Edgington, better known as Stuart Edge, is a 27-year-old (27 March 1989) American YouTube personality from Utah who is best known for his pranks, magics, and flash mob videos. He is also an actor, writer, and musician, and is famous for his street music performances. Stuart is also a member of The Church of Jesus Christ of Latter-day Saints.
Stuart's life has not always been an easy road to travel. At the young age of 14, his parents got divorced, and he moved to Mexico with his mother and two brothers. He graduated from Mountain Crest High School in Hyrum, Utah, and went on to receive an Associate Degree from Utah Valley University. Before becoming a YouTube sensation, he had a job cleaning portable toilets for construction workers before getting an internship and later an assistant video editor position for OraBrush.
He even published his authored book titled On the Edge: How My Crappy Job Changed My Life, in which he "shares his secrets to his YouTube success and reveals his conversion from self-conscious to confident and how being true to his beliefs made all the difference." Per a 21 May 2016 Deseret News article, Stuart also talks about "how he was able to turn difficult times from his youth (such as childhood anxiety, struggles with sports, his parents' divorce and a few awkward dates, to name a few) into positive memories."
As Stuart cleaned toilets, he dreamed of creating videos that not only made people laugh but also changed their lives. He became popular on the YouTube scene in 2012 with his "Mistletoe Kissing Prank" video, which went viral after receiving 10 million views in just one week. As of late January 2017, his YouTube channel has garnered over 2.4 million subscribers, and his videos have been viewed more than 252 million times. His original "Mistletoe Kissing Prank" video has now been viewed over 28 million times.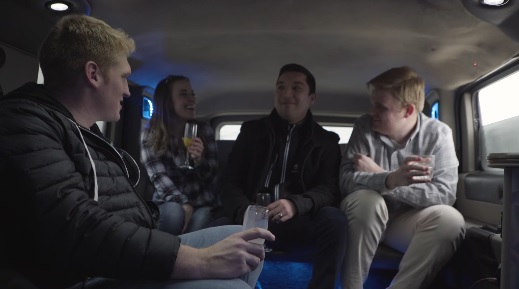 Stuart also takes the time to realize that his life has been richly blessed and because he has been given much, he understands the importance of giving back to others. He aptly demonstrates this in his new YouTube video "Picking People Up in a Hummer Limo" which was posted on his channel on 27 January 2017. About the video, Stuart wrote:
Back in 2015, I noticed the college students in my town rode overpacked shuttle buses to get to school. The thought occurred to me make a video where we picked people up in a luxury shuttle bus with breakfast! Winter 2015 came and went. I could've done this video in the spring, but I wanted to pick people up during the cold winter months…I just felt people would appreciate it more. Thankfully winter 2016/2017 has been freezing cold!
Thinking at first that people would be impressed by the limo, Stuart soon learned that it wasn't that people had a chance to ride in a fancy limo that made the trip so special, but rather it was the laughter and the experience that everyone shared. Another takeaway from this video is that we may never know what type of day a person may be having. To show someone just a little love and compassion can go a long way. This video has nothing to do with the fancy limo, but rather it focuses more on the people riding inside and being able to be of service to them in even a small way such as a warm ride on a cold day and breakfast to fill their empty bellies.