Jay Wesley Osmond is the sixth progeny of the late George Virl Osmond, Sr., and the late Olive May Davis Osmond. As a member of the performing Osmonds, Jay was a backup singer and the drummer.
After more than half a century of entertaining audiences around the world, Jay decided to write a musical to tell the story of how five boys from Ogden, Utah, — Alan, Wayne, Merrill, Jay, and Donny — became pop sensations in the world of music. The musical, called The Osmonds: A New Musical, launched its tour of the United Kingdom and Ireland on Thursday, 3 February 2022, at the Leicester Curve Theatre in Leicester, England. The tour is booked to run until 3 December 2022, at Venue Cymru in Llandudno, Wales.
Jay brings the amazing story of America's first family of music to life on stage by pulling back the curtain to reveal the family behind the hits: parents George and Olive Osmond and their nine children, Virl, Tom, Alan, Wayne, Merrill, Jay, Donny, Marie, and Jimmy. In the musical, Ryan Anderson plays Merrill, Jamie Chatterton plays Alan, Alex Lodge plays Jay, Danny Nattrass plays Wayne, and Joseph Peacock plays Donny.
The Osmonds: A New Musical is directed by Shaun Kerrison, with choreography and musical staging by Olivier Award winning Bill Deamer, set and costume design by Lucy Osborne, lighting design by Ben Cracknell, sound design by Dan Samson, musical supervision and arrangements by Julian Bigg and Rich Morris, wigs, hair and make-up design by Sam Cox, and casting by Will Burton.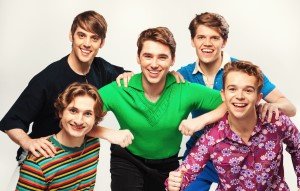 According to the official website, the musical features a "chart topping list of anthems including "Love Me for A Reason," "Crazy Horses," "Let Me In," "Puppy Love" (made popular by Donny Osmond), "One Bad Apple," "Down by the Lazy River," "(We're) Having A Party," "Long Haired Lover From Liverpool" (made popular by Jimmy Osmond), "Paper Roses" (made popular by Marie Osmond) and many more. During the performance, the audience will be transported back in time to the 60s. . . .the 70s. . . .and the 80s. It was the time when five brothers from Ogden, Utah, went on to create smash hits decade after decade.
Other members of the cast include Georgia Lennon (as Marie Osmond), Charlie Allen (as George Osmond) and Nicola Bryan (as Olive Osmond). According to the website whatsonstage.com:
The young cast for the show includes Alfie Murray, Jasper Penny, and Joey Unitt (alternating as Young Merrill Osmond), Jack Jones, Harvey Loakes, and Charlie Stripp (as Young Alan Osmond), James Flintoff, Charlie Tumbridge, and Tom Walsh (as Young Jay Osmond), Alfie Jones, Austin Redwood and Thomas Ryan (as Young Wayne Osmond), Matthias Green, Osian Salter, and Nicholas Teixeira (as Young Donny Osmond) and Fraser Fowkes, Austin Riley and Harrison Skinner (as Young Jimmy Osmond).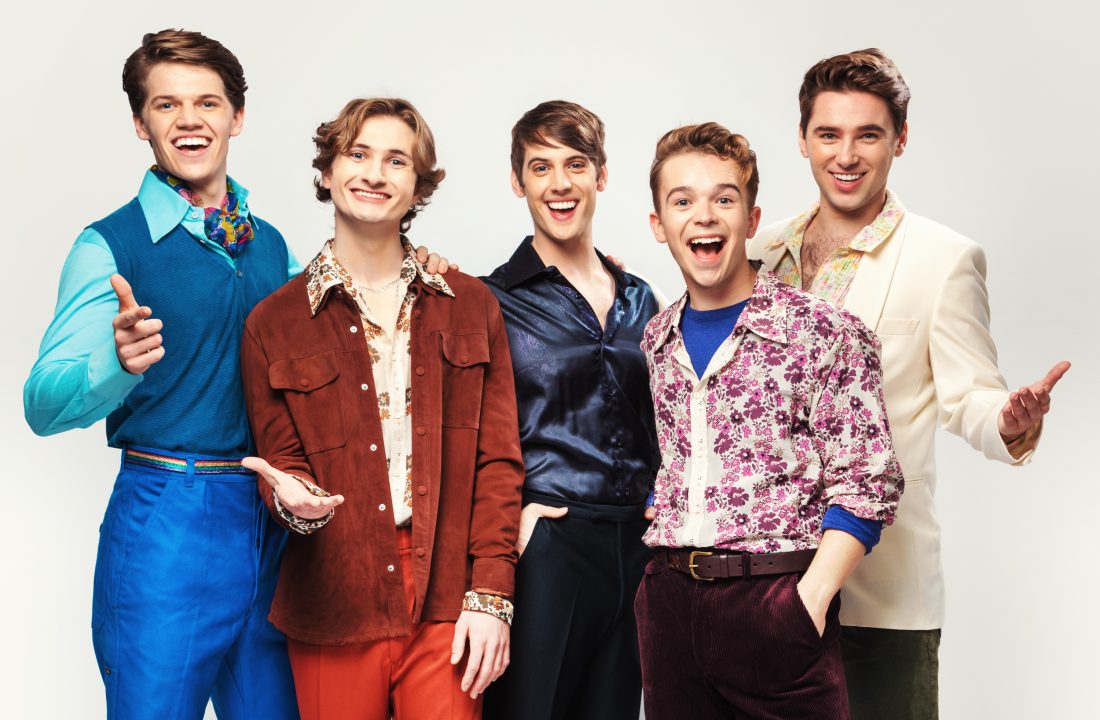 Jay has said, "It is an honor to welcome Ryan Anderson, Jamie Chatterton, Alex Lodge, Jamie Nattrass, and Joseph Peacock to the family and I can't wait for audiences to see what they can do. Their style, charm and talent will bring our music and story to a whole new generation, and you will 'love them (for a reason)' as much as we do."
The story, which is told from the perspective of Jay Osmond, also has a companion book by Julian Bigg and Shaun Kerrison. Tickets can be purchased on the WhatsOnStage website, and a schedule of performances can be found on the official The Osmonds: A New Musical website.