This review was written by multi-award winning music producer, composer and music reviewer, Greg Hansen. He hosts the top rated inspirational music program, Sunday Sounds, on FM100.3 KSFI, Salt Lake City.
I review music every day as a radio host at FM100.3, and as a professional music producer.
Only once in a great while does an album come along from the regional music industry of this quality.  Jeannine Goeckeritz' new instrumental classical/crossover album is nothing short of a triumph of alluring beauty and listenability.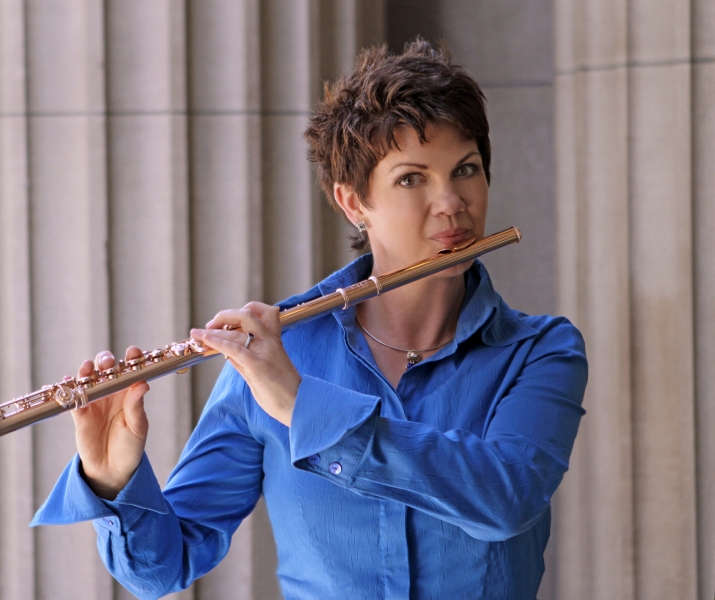 Jeannine is a flutist with the Orchestra at Temple Square, and a consummate performer who finds herself constantly on camera during the broadcasts of Music and the Spoken Word. She plays flute, alto flute, and piccolo, and makes full use of the capabilities of each instrument  on the album with soaring melodies, richly haunting alto flute moods, and scampering speed in  technique.
The playlist is a well-conceived collection of top classical, Broadway, and film music hits that provide a satisfying variety to the emotional ride as well as showing off her skill. But overriding the entire experience is consistent attention to the listener's involvement, and not just a shallow display of technique, which is so often prevalent in this genre. Her direction is clearly and sincerely to inspire.
Some of the names on the credits are of the most notable in the business, namely producer Chance Thomas, who's gained fame as a top video game music composer, Ryan Murphy, associate conductor of the Tabernacle Choir, and Sam Cardon, award-winning film composer. They and the other arrangers provide sensitive, fresh and competent treatments of the familiar material by giving the selections a life of their own.
In addition, the musicians are top studio players, the recording is near flawless, and there appear to be no shortcuts in the quality of the entire album, including the cover and supporting marketing to the intended audience.
This album can be listened to comfortably as background music, or with closer attention, be a satisfyingly compelling  inspiration to dream our own dreams.