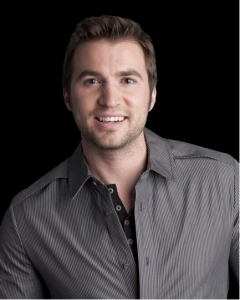 World-class, award-winning, classically trained tenor, Nathan Pacheco, owes a great deal of his decision to pursue music as a career to a talk that he heard given by Elder Jeffrey R. Holland of the Quorum of the Twelve Apostles of The Church of Jesus Christ of Latter-day Saints. In fact, none of his previously released albums would have materialized, and certainly not his recent recording "Higher" which is a selection of religious songs, if it were not for the talk that he heard Elder Holland give at BYU in the fall of 2004 titled "Terror, Triumph and a Wedding Feast."
Elder Holland's message addressed themes of learning to overshadow fear with faith. Nathan told Deseret News, "The part in that talk that hit home with me is 'God is anxiously waiting for the chance to answer your prayers and fulfill your dreams, just as he always has. But he can't if you don't pray, and he can't if you don't dream. In short, he can't if you don't believe." He continued, "It (Elder Holland's words) helped me take that leap of faith. … It was one of those unique, special and very personal experiences where I felt in my heart that the Lord knew me, was aware of me and my dreams and desires, and that he would help me."
Nathan's latest album, Higher, "a collection of his favorite songs designed to help listeners reach higher, to feel a deeper spiritual connection, and to find peace," was released on 10 February 2017, and includes 12 religious songs such as "Amazing Grace," "His Love," "How Great Thou Art," and an original song called "Through All My Days." He describes the process of producing the album as both an emotional and spiritual experience. In a telephone interview with Deseret News, he commented, "It's as if I learned something that cannot be described in words but only through music. I hope the same feelings I felt while arranging and recording the songs will be felt by every single listener." He further said, "My belief in the Lord, my gratitude, and devotion, have resulted in the creation of this album . . . one of the most fulfilling things I have ever done." Per LDS Living.com, "Higher reached the no. 1 spot on three Billboard charts ("Classical Albums," "Classical Crossover Albums," and "Heatseekers Mountain" as well as hitting top rankings on eight other charts, including "Heatseekers Albums" (no. 3), "Top Christian Albums" (no. 16), and "Christian Album Sales" (no. 9)."
Nathan Pacheco, the third of seven children, grew up in a musically inclined family. His mother has always taught piano lessons and his siblings are also musically gifted. He has had numerous powerful experiences with different genres of music through the years, but the one experience that sticks out in his mind occurred when he was in the sixth or seventh grade and the effect that Wolfgang Amadeus Mozart's "Requiem" had on him as he intently listened to it. He remarked, "I listened over and over, trying to take in all the beauty from it. Something about it really moved me."
Nathan also served a full-time two-year mission for The Church of Jesus Christ of Latter-day Saints in Campinas, Brazil, from 1999 to 2001. During his mission, he looked for any opportunity to sing to people on buses, in churches, in the streets, and in the parks, regardless if they were interested in the message of the gospel or not. He told Deseret News that he "loved the way it broke down barriers, created a spirit of friendship, and bridged the gap between cultures. Through music, you can feel like instant friends with people." He also admits, that if nothing else, it helped him to overcome his fear of singing in front of people.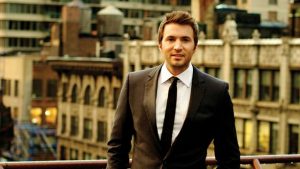 Nathan also acknowledges that he has had several excellent mentors throughout the years, but perhaps his two greatest mentors are found in the persons of his endearing wife, Katie, for her unwavering love and support, and Yiannis Chryssomallis, the composer/musician also known as Yanni, with whom he collaborated and toured with for more than two years. About selecting the songs that he records, he said, ""There are so many I love, but if there's nothing special about my rendition, if I can't do it justice, I won't do it." He also speaks and continues to learn Portuguese, Spanish and Italian, and he has goals to learn Mandarin Chinese, Arabic, and possibly other languages, and to sing more in Italian. He commented, "It's hard to find the required time needed to be fluent … but it's a hobby of mine, even if it takes a lifetime."
Nathan Pacheco performed at Roots Tech on Saturday, 11 February 2017, and will also be performing at several Time Out for Women (TOFW) events, including the Layton evening event on 17 February 2017. Per the Deseret News, "Pacheco and his wife now serve as ward missionaries. He said he sings in sacrament meeting about once a year and will occasionally organize a musical fireside with some of his musical friends in the Nashville area." One of his favorite hymns is "A Poor Wayfaring Man of Grief."
The Pachecos live in Nashville, Tennessee, and have two boys, 4-year-old Emerson and 8-month-old Crawford.