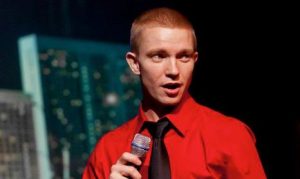 Brydon Brett is not a stranger to the stage or entertainment business. He was practically born on stage, although his first love was basketball. Some might say that he was a natural, being able to delight the audience with each performance. After returning home from his two-year mission for The Church of Jesus Christ of Latter-day Saints in Portland, Oregon, and then attending Southern Virginia University to play basketball for a year, Brydon changed his focus from sports to entertainment and decided to use his talents by being a part of The Bretts Show, as well as, other artistic and creative interests.
Brydon Brett is a singer-songwriter, humorist, MC, author, dancer, speaker, and co-producer of The Bretts Show in Branson, Missouri. Besides performing in The Bretts Show, he and his brother, Garon, along with their friend Aaron Ellsworth, comprise a phenomenal band known as Prince Ivan. The band's purpose in making music together is to demonstrate to the world that it is possible to create chart-topping music with clean lyrics and messages.
Recently Brydon sat down with Choose Branson to discuss why people with immense talents choose to stay in Branson instead of going elsewhere. He told Choose Branson:
In a way [I guess you could say I feel] called to be here, to help grow this community, to grow the entertainment industry. It is important for me to maintain a family lifestyle, to be able to serve in the community, to serve in a church.
I don't want to be on the road for 200 days a year. Branson offers me that opportunity. My mentality is 'Let's build something great' here. Let's make the eyes of the world turn here. For what we are trying to do, Branson makes the most sense.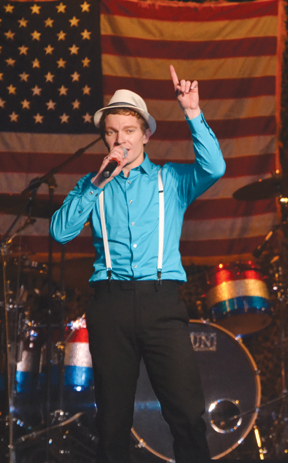 Brydon believes that a person doesn't have to be in a certain location to find success. For example, musicians once had to go to New York and then to Los Angeles, California, if they aspired of making it big in the music industry. Brydon says that the dynamics have since changed and now a musician can be successful anywhere. So, why not Branson, Missouri?
He also believes that there is so much support from the people in Branson because of the uniqueness of styles. Citing his band Prince Ivan as an example, he mentions that Prince Ivan is an Indie band, of which there are not a lot of, that happens to be in Branson. He said, "We're a crossroads of sorts, where people from all over the world get to hear our music." Even though their show is in Branson, Missouri, the group can reach several states and countries with their music.
He further believes that it is the entertainment that is in Branson that will always make it a unique place, not just because of the [number] of shows that are there, but more importantly, the concepts of the shows. "God-Family-Country centered entertainment that is clean yet excellently done so that grandparents and parents don't have to plug their kid's ears or cover their eyes." He continued, "It is very important for that brand to stay intact. If we lost the core values of our entertainment offering in Branson, then we would literally become like any other destination. We will have ceased being unique."
In his closing remarks, Brydon said, "At the end of the day as a musician you can talk all you want about the concept, mission, and purpose, but if the music stinks then it is simply will not matter. The music [must] be awesome. . .. On our end, as I stated, we have to produce really top-quality stuff. I want to be on your playlist, not because I'm from Branson, but because you like the music I create. I want to be there with all of your favorite artists."