Someone has wisely said, "The great breakthrough in your life comes when you realize that you can learn anything you need to learn to accomplish any goal that you set for yourself. This means there are no limits on what you can be, have, or do."
Richard Williams, originally from Salinas, California, is an LDS film composer. He has almost always been involved with music since first learning to play the piano in 3rd grade. When he was in middle school, he tried his hand at composing but was not very successful at it because he could not notate his musical thoughts efficiently. However, he did not let that minor setback deter him from pursuing his aspirations of becoming a composer.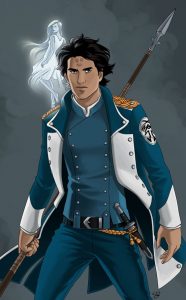 Richard is currently part of an exciting project with The Black Piper production company. Inspired by Brandon Sanderson's bestselling novel The Way of the Kings, The Black Piper has created an epic fantasy, cinematic-style book soundtrack called KALADIN. Having successfully completed their Kickstarter campaign at $110K, the album and artwork can now be pre-ordered for a limited time by going here. The 30-track album can be previewed on The Black Piper website.
Brandon Sanderson has been listed on Ranker.com as one of the top 5 Best Fantasy Authors, alongside George R.R. Martin and J.K. Rowling. Based on his novel, The Way of the Kings, the album tells the journey of Kaladin Stormblessed from his time training as a surgeon in Hearthstone to the epic battles on the Shattered Plains – all through music. The description of the album adds a little more insight: "The album tells a tale of a harsh world where storms ravage the earth, spirits assist humanity, and hope, beauty, and honor exist as delicate wisps on the wind."
The benefit of an album with this approach is that fans can relive their favorite moments with the freedom of imagination that music provides without impairing that imagination with the visuals of a film or the timing of an audiobook.
Half of the album was recorded with the City of Prague Philharmonic Orchestra, and the remainder of the album was recorded in Budapest, Hungary. For those who haven't read the book, "the music deftly captures the sting of betrayal, the horror of fighting a war on the front lines, the whispers of a spiritual awakening, and the strength of friendship so that the listener may become familiar with the story on a human level."