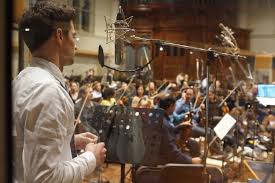 Captivated by his friend and bandmate, Spencer Jones, playing an original song on the guitar titled "So Low," Rob Gardner, a prolific Latter-day Saint composer known for his sacred oratorios such as Lamb of God and Joseph Smith the Prophet began playing along on the piano, adding chords to accompany the guitar. The addition of the piano chords was minor, but significant enough to change the tone of the song. After playing the song, both artists shared the same feelings about it, "That's the way it's supposed to sound." This was a perfect example of the way Cinematic Pop creates music.
The Cinematic Pop is a group that puts a classical spin on popular songs. According to the Deseret News, Gardner, who is also co-founder of Cinematic Pop, reached out to the musicians about collaborating on some of Cinematic Pop's pieces. He created an arrangement of "So Low" for orchestra and choir, and the song is one of three original pieces featured on Cinematic Pop's recently released album.  A music video for "So Low" featuring Spencer Jones with the London Symphony was also released.
Jones, who also has his own band called Redhill based in Arizona, spoke with Deseret News about his unique experience in writing "So Low." He said, "I always try to write songs that are personal to me in some way, and even if I'm writing about something else, I try to draw from a place that I can relate to." The song resonates with Jones, as he wrote it the night before his younger sister entered the Anasazi Foundation in Arizona, a nonprofit wilderness therapy program geared to lift troubled youths. He continues, "This (song) in particular was about an experience that was happening in that moment. I was just in a place where I didn't know how (my sister) entering (Anasazi) was going to affect our friendship as siblings. There were a lot of questions that I had going through my mind when I wrote that."
The song serves a two-fold purpose. First, it is an outlet for Jones to express his emotions, and second, it is a way to reach out to others who may be facing similar circumstances in their life. Deseret News also points out "For Jones, the strength of 'So Low' and the power of music, in general, is its ability to bring people from all backgrounds together." Gardner also mentioned that although there is a tone of sadness to the song, its overall message is one of hope.