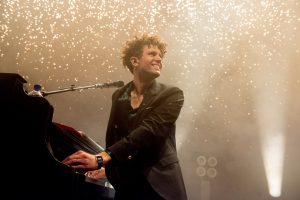 Robbie Connolly, a member of The Church of Jesus Christ of Latter-day Saints, is a lead vocalist and guitarist for the Alternative Rock Band Fictionist. The Provo-based musician joined The Killers as a backup musician in September 2017. He will return to his hometown of Utah on Tuesday, 6 February 2018, when The Killers are scheduled to perform at Vivint Smart Home Arena in Salt Lake City, Utah, in support of their new album Wonderful Wonderful. Thus far, he has played nearly 50 shows with the world-renowned band, including performances at Austin City Limits and London's O2 Arena. It is a possibility that The Killers' current tour could extend into 2019.
Robbie's second performance on stage with The Killers found him in front of an exuberant audience consisting of 10,000 screaming rugby fans at the Australian Football League (AFL) Grand Final – an annual Australian rules football match, traditionally held on the final Saturday in September or the first Saturday in October at the Melbourne Cricket Ground in Melbourne, Australia, to determine the Australian Football League (AFL) premiers for that year. The excitement of the crowd stemmed from the Richmond Tigers, Melbourne's home team, pulling off an upset over the Adelaide Crows. During the postgame concert, Richmond goal kicker, Jack Riewoldt, jumped onstage and sang "Mr. Brightside" with the band. The crowd was boisterous. Later, in a telephone interview, Robbie said, "I think it was [definitely] baptism by fire."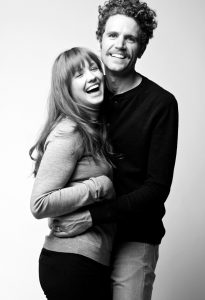 Robbie joined The Killers' worldwide tour just two weeks after his wife, painter Caitlin Connolly, had given birth to twin boys. He told Deseret News, "I'd never been a father at all, let alone a father of two babies. And to be going through that at the exact same time that I'm going through planning this big career change, I just had no idea what to expect." The twins were a long time in the making as Robbie and Caitlin had been married for ten years when they decided to try vitro fertilization. They got the news that they were expecting twins right before the opportunity with The Killers availed itself.
Robbie was told by Brandon Campbell, bassist for Neon Trees, who had grown up performing with Killers' drummer Ronnie Vannucci Jr., that The Killers were auditioning for an additional rhythm guitarist to join them on tour. However, with the recent birth of twins, he felt that leaving his wife while he went out on tour was not the best decision. He was also a bit skeptical after his experience with Atlantic Records in 2011 when the label shelved Fictionist album and then dropped the band two years later. Caitlin, however, encouraged him to audition.
His audition consisted of a smartphone video of him playing some Killers songs on guitar. The band liked it, and he flew to Las Vegas, Nevada, to meet with Brandon Flowers, the frontman of the group. Some rehearsals followed, and within a few months, Robbie was onstage in Australia playing "Mr. Brightside." He told Deseret News, "I mean, I realistically have a very short list of bands that I would do this for. So, the fact that a band that is on that list, the opportunity came for that, that doesn't happen very often." Although he has a reputation as an amazing guitarist, most of his time with The Killers is spent playing synths, organs and other keyboards, with a little guitar playing along the way. He remarked, "If you had told me I would be playing as much keyboards for a band like The Killers someday, I wouldn't have said yes. But it is validating. And I take it as a fun opportunity. I'll be the first to admit I'm not the flashiest piano/keyboard player, but it's a really fun opportunity to get better and better every day."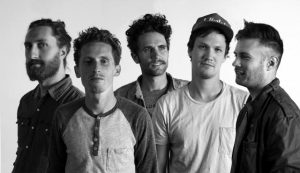 While on the road, Robbie also spends time writing and recording his own music, turning each hotel room into a makeshift studio. He has plans to use some of the material for his next solo album. Some of the songs may also find their way back to his other band, Fictionist. Robbie told his bandmates about the opportunity to perform with The Killers last May, right after their "Sleep Machine" album release show in downtown Provo, Utah. The band was excited for him and told him to go for it. He said, "It felt like a good time to do this. And hopefully me being out with The Killers is beneficial to Fictionist as well."
Robbie's family time is limited these days but with Face Time sessions, meet-ups in other states, and the occasional visit home to Utah, he and Caitlin are doing their best to create a unique family life. He said, "In the last few months I've really learned to appreciate my time. Every hour with my boys is precious time. But it's making me love every minute. I want to make my time worth it."