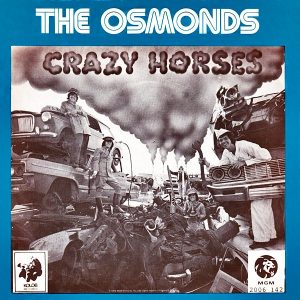 The Osmonds comprised of Alan, Wayne, Merrill, Jay, and Donny released their hit song "Crazy Horses" 45 years ago, in 1972. The song was written by the three oldest brothers – Alan, Wayne, and Merrill – who were also fathers at the time. Merrill Osmond, the lead singer of the group, recalled in a recent interview with The Guardian, "We were rehearsing in a basement one day when Wayne started playing this heavy rock riff. I came up with a melody and Alan got the chords. Within an hour, we had the song."
"Crazy Horses," a song which deviated from the boy band sound that people had become accustomed to, took the music of the Osmonds to a whole new level. Merrill continues, "Being in the Osmonds was like being in a war zone after 1972. Fans ruined limousines by jumping on top of them and smashed windows as we tried to leave places. When we played arenas, we couldn't hear anything because of the screaming. We tried earmuffs, but they didn't work."
The first two lines of the chorus are:
What a show, there they go smokin' up the sky, yeah.
Crazy Horses all got riders, and they're you and I.
Just listening to those two lines by themselves, a person might be left to wonder what the song is about. The song was written about air pollution. "Crazy Horses" represents automobiles – horsepower – that creates pollution in the atmosphere from the exhaust fumes. Several 1970s vintage cars spewing smoke appear on the single's and album's cover artwork.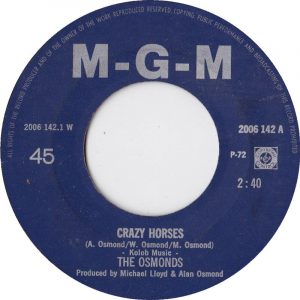 This song was initially banned in France because they thought "smoking up the sky" was about drugs. It reached number 14 on the US Billboard Hot 100 and number 2 on the UK Singles Chart. There are a few noticeable differences about the song. Jay Osmond, the drummer for the group, sang lead vocals on most of the track instead of Merrill. Merrill sang the little choruses, and Donny, the usual co-lead, did not have any vocal parts because his voice was changing at the time due to puberty. The record was co-produced by Alan Osmond and Michael Lloyd. Lloyd had previously been in a psychedelic rock group, The West Coast Pop Art Experimental Band. It is one of the best-known hits and has been covered by numerous bands including The Sensational Alex Harvey Band, The Mission, Tank, Lawnmower Deth, Neal Morse, The Frames, KMFDM, Electric Six, and Lifescreen. In 2003, Westlife covered the song live, and they even performed the song alongside Donny Osmond.
In the interview with The Guardian, Jay Osmond recalled, "The song was recorded at MGM in Hollywood, and we added that distinctive "Wah! Wah!" intro sound afterward. Alan had written the lyrics, which talked about horsepower, and he said: "It's got to sound like a horse somehow." We tried everything, then finally found something on Donny's organ that sounded like a neighing stallion." Jay continues, "The song changed the way we were perceived. Before that, we'd been called "bubblegum." But suddenly we were getting invited to see Led Zeppelin at Earls Court, to sing Stairway to Heaven with them on stage."
Merrill also points out that when the military caught Saddam Hussein, they discovered he had a complete collection of Osmonds records, including "Crazy Horses."