Each year the Mormon Tabernacle Choir and Orchestra at Temple Square perform their Pioneer Day concerts to celebrate the arrival of the Mormon pioneers to Salt Lake City in the summer of 1847. Most of the party reached the Great Salt Lake Valley on 22 July 1847. Brigham Young, then President of The Church of Jesus Christ of Latter-day Saints, did not arrive until 24 July 1847 because he was delayed by illness. Upon arriving in the valley, he declared it to be the new homeland of the Latter-day Saints.
This year's Pioneer Day concerts called "Music for a Summer Evening" will be held on Friday and Saturday, 14 and 15 July 2017, at 8:00 p.m. in the Conference Center on Temple Square. Mack Wilberg, music director of the choir, and Ryan Murphy, associate music director, will conduct the concerts.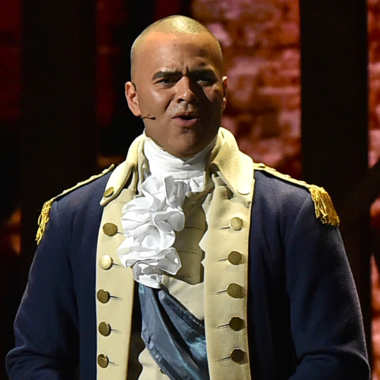 The special guest artist for the performances will be Tony Award nominee Christopher Jackson who is well-known for playing the role of George Washington in the critically acclaimed Broadway show "Hamilton." In a recent Mormon Newsroom press release, Mormon Tabernacle Choir president, Ron Jarrett commented, "We are delighted to have Christopher Jackson join us for this year's concerts. He is a multi-talented artist with an amazing stage presence. Combined with the choir and orchestra, he will create a magical experience for audiences."
In addition to his Tony Award nomination for "Hamilton," Jackson has won a Grammy Award for "Hamilton" and an Emmy Award as a composer and songwriter for "Sesame Street." His Broadway credits include "The Bronx Bombers," "In the Heights," "Memphis" and "The Lion King." He also recorded the singing voice of Chief Tui for the 2016 hit Disney movie "Moana." And he has a small role in the CBS drama "Bull."
The Mormon Newsroom press release gives the following information about the viewing availability of the concerts:
The Saturday evening concert on July 15 will be live-streamed on MormonTabernacleChoir.org (motab.org/pioneerday) and the Mormon Channel's YouTube channels in Spanish, Portuguese, French and German at 8:00 p.m. It will also be carried over the Church satellite system and aired on BYUtv. After the live stream ends, the concert will be available on-demand at motab.org/pioneerday.
Jarrett also commented, "The choir will capture the courage of these early settlers by singing pioneer hymns as they unite listeners in harmonious appreciation for their sacrifice." Free tickets are required to attend the concerts and will be available on a first come, first served basis beginning Tuesday, 20 June 2017at 10:00 a.m. at lds.org/events, by calling 801-570-0080, or at the Conference Center ticket office. Admission is limited to ages eight and older.
Update: Christopher Jackson Unable to Perform at Pioneer Day Concerts
LDS Living.com reports, "Due to unavoidable and unanticipated scheduling conflicts with the filming of his current TV series, Christopher Jackson will be unable to join the Mormon Tabernacle Choir and Orchestra at Temple Square for their annual Pioneer Day concerts on July 14 and 15." Jackson is disappointed that he will not be able to perform with the Choir and Orchestra at Temple Square but looks forward to a future opportunity.
The Mormon Tabernacle Choir has announced that Alex Boyé will now be the guest artist for this year's Pioneer Day concerts. Boyé was recently named 2017 Artist of the Year in a music contest sponsored by Pepsi and Hard Rock Cafe. As grand prize winner, he will be performing a halftime show for the NFL's Monday Night Football this December in Miami. Boyé is known for his upbeat Africanized style of music that has gained more than 400 million views on YouTube, earning him the title of YouTube's Cover Artist if the Year in 2014. He has had his videos featured on Good Morning America, Jimmy Kimmel, Billboard.com, Time.com, WorldstarHipHop, Queen Latifah, Disney.com, Perez Hilton, and the Huffington Post.