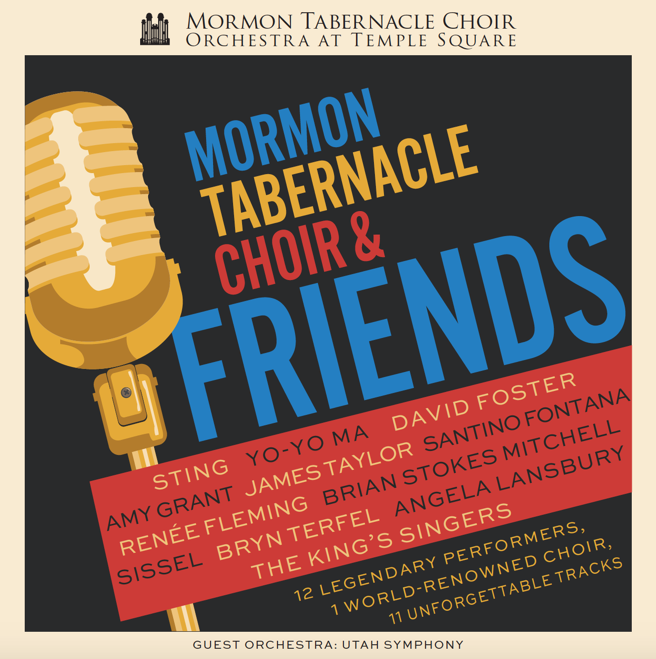 The world-renowned Mormon Tabernacle Choir and Orchestra at Temple Square are known for their remarkable performances in concert halls around the world, on television and radio broadcasts, and through a growing social media presence. The 360-member Choir performs under the batons of Mack Wilberg and Ryan Murphy. The 150-member, all-volunteer symphony orchestra was organized in 1999 to accompany the Choir.
The Mormon Tabernacle Choir, also known as "America's Choir," and Orchestra at Temple Square released their new album titled Mormon Tabernacle Choir & Friends on 12 May 2017. The 11-track recording features some of the world's top artists who have performed with the Mormon Tabernacle Choir over the past 15 years. Artists such as James Taylor, Sting, Yo-Yo Ma, David Foster, Angela Lansbury, Amy Grant, Santino Fontana, Renée Fleming, Brian Stokes Mitchell, Sissel, Bryn Terfel and The King's Singers. The Utah Symphony is also featured as the guest orchestra.
On Thursday, 25 May 2017, just two short weeks after the release of their phenomenal album, the Mormon Tabernacle Choir and Orchestra at Temple Square made an astounding announcement. Their latest album has ranked #1 on Billboard's Classical Crossover chart. This marks the 12th time that one of the Choir's albums have earned the top honor. The album also ranked #2 on the Classical Overall chart.
In a recent press release, Mack Wilberg commented, "This album represents years of collaboration with some of the world's most treasured artists. We are thrilled with the reception this work is receiving and consider it a great honor to join forces with these incredible friends. We're grateful listeners are enjoying it as much as we loved making it."
David Foster, one of the featured artists on the album, said, "I'm a Mormon Tabernacle Choir lifer. I grew up listening to them on the radio with my father. And it's been a goal of mine to work with this choir. It doesn't matter what religion you are; when you work with the Choir in the Tabernacle, something comes over you. Couple that with an orchestra, and a 360-piece choir playing a song–it's magic."
Mormon Tabernacle Choir & Friends is available from Deseret Book. It is also available for download on iTunes and from Amazon.