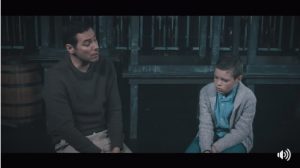 As a special Christmas gift to his mother and grandmother, Faisal Meek, the 11-year-old son of Christopher Meek (of Dahlia Row), performed a duet with his dad for the song "When Your Feet Don't Touch the Ground." The song is from the enchanting musical "Finding Neverland," the heartwarming true story about the Scottish novelist and playwright, best remembered today as the creator of Peter Pan, Sir James Matthew Barrie, and a family that he meets that is struggling with loss.
Based on the 2004 Academy Award®-winning film of the same name, the awe-inspiring play follows playwright J.M. Barrie as he musters the courage to become the writer – and the man – he yearns to be. He discovers the inspiration that he had been missing when he meets Sylvia, a lovely widow and her four young sons: Jack, George, Michael, and Peter. Awed by the boys' hilarious escapades, Barrie produces the extraordinary world of Neverland and creates a play unlike anything the high-society London theatergoers had ever seen. It was a tremendous risk on his part, but he discovered "When you believe, you can fly." The play, now considered a classic, is known as Peter Pan, or The Boy Who Never Grew Up.
In the music video, the scene that is depicted is of young Peter who has already lost his father to cancer and now faces the prospect of losing his beloved mother to an unidentified illness. Christopher and Faisal perform an excellent rendition of the song "When Your Feet Don't Touch the Ground" (lyrics by Gary Barlow). Their serene voices and the relaxed setting set the tone for the piece. The words from the third and fourth stanzas of the song summarize the overall mood:
Everyday just feels a little longer
Why am I the only one not getting stronger?
Running around pretending life's a play,
It doesn't make the darkness go away.
I may be young, but I can still remember
Feeling full of joy, crying tears of laughter
Now all my tears are all cried out,
Make-believe, but count me out.
There are times in all our lives when we feel a little like Peter Pan, that life is so much better living above the clouds. However, we eventually come to the reality that we must face our life challenges with our feet planted firmly on the ground. In the words of the song:
With my feet on solid earth,
I can face the fates that hurt,
and in time, I'll be fine,
I'll come 'round.