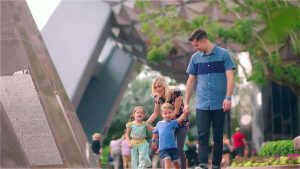 In 1992, a quarter century ago, the Disney film Aladdin took us on a magic carpet ride to a whole new world. For this week's "Video Find of the Week" we join 4-year-old Claire Crosby and her family in a whole new world – Disney World that is!
Disney graciously flew Claire and her family from New York to California for five days of excitement and fun and to film a music video for the song "A Whole New World." The Crosby family also filmed a 13:11 behind the scenes video, giving us a glimpse of what went into the making of the video, as well as some of the fun adventures that they had. Because Claire is only four years old, the crew was only allowed to film for two hours a day. The actual music video of Claire and her dad, Dave, singing "A Whole New World" can be found on the Disney Parks YouTube channel.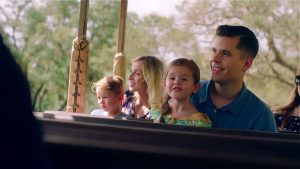 Disney world is such an enchanted, magical place. It is a place where people of any age can go, and even if for just a little while, escape the cares of the world. Even the oldest member of the family can feel like a kid again. It is obvious from the behind the scenes video and the Disney sponsored music video that Claire and her entire family had a wonderful time on a "magic carpet ride" all their own. As Claire and her dad sing their duet, we see a castle in the background, and various scenes of the amazing wonder of Disney are also shown during the video.
According to Wikipedia:
Aladdin is a 1992 American animated comedy musical romantic fantasy adventure film produced by Walt Disney Feature Animation for Walt Disney Pictures. The film is the 31st Disney animated feature film, and was the fourth produced during the Disney film era known as the Disney Renaissance. The film follows Aladdin, a street urchin, who finds a magic lamp containing a genie. To hide the lamp from the Grand vizier, he disguises himself as a wealthy prince, and tries to impress the Sultan and his daughter.
Claire (Jasmine) and her dad (Aladdin) give an excellent performance of the ballad "A Whole New World." One can almost sense that as they sing they are imagining riding on Aladdin's magic carpet together and discovering a whole new world that awaits them.