The story of Jacob's dream as recorded in the Scriptures in Genesis 28:11-12 sets the background for the beloved 19th-century Christian hymn "Nearer My God to Thee." We read, "And he lighted upon a certain place, and tarried there all night, because the sun was set; and he took of the stones of that place, and put them for his pillows, and lay down in that place to sleep. And he dreamed, and behold a ladder set up on the earth, and the top of it reached to heaven: and behold the angels of God ascending and descending on it."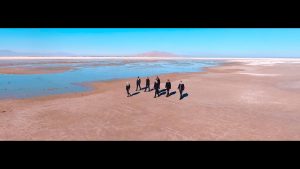 On 4 January 2018, the music a cappella group Eclipse 6 joined by Madilyn Paige, a former contestant on season 6 of NBC's The Voice, released a serene, heartfelt rendition of the popular hymn. In the description of the song, the group wrote, "We love the emotion felt in this song and were so excited when Madilyn Paige said she would sing it with us.  We feel the repeated phrase, "nearer, my God, to thee," is an emotional outpouring of a desire to be more closely united with God, the Father, and His angelic hosts in both life and death."
The opening scene in which the group appears to be wandering in a vast oasis, adds clarity to the words of the second verse of the song:
Though like the wanderer, the sun gone down,
Darkness be over me, my rest a stone;
Yet in my dreams I'd be nearer, my God, to Thee.
President Thomas S. Monson who passed away on 2 January 2018 taught, "We are never alone when we stand with our Father in Heaven." At 1:16, Madilyn Paige adds her melodious voice to round out the six-part harmony. As Madilyn and the group continue to wander and sing, it is almost as if they are uttering a heartfelt prayer of wanting to be closer to God – "There, let the way appear, steps unto heaven."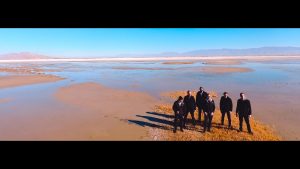 The group goes on to say in the description of the video, "At times, we may feel like we are wanderers, wandering in darkness, longing for His presence. Remember, He said, 'I love them that love me; and those that seek me early shall find me' (Proverbs 8:17).
The song "Nearer My God to Thee" was written by the English poet and Unitarian hymn writer Sarah Flower Adams at her home in Sunnybank, Loughton, Essex, England, in 1841. It was first set to music by Adams's sister, the composer Eliza Flower, for William Johnson Fox's collection Hymns and Anthems. The hymn is well known as the alleged last song the band on RMS Titanic played before the ship sank. Wallace Hartley, the ship's bandleader, who went down with the ship (as did all other musicians on board), liked the hymn and had wished to have it performed at his funeral.