On 25 May 2017, The Piano Guys posted a new music video on YouTube for their new original song "It's Gonna Be Okay" featuring UK pop star Sir Cliff Richard. The first version of the song is part of their 2016 album Uncharted. It was posted on YouTube on 19 September 2016 with Al van der Beek as the main singer and received over 5 million views. In this new edition of the song, Cliff Richard sings along with Al, and the two of them create some great harmonies during the chorus. The new music video was filmed in New York City.
The lyrics of the song are peculiarly optimistic about the future, something that we don't tend to see very often in today's world. The music has a pop-style to it and is very upbeat. The lyrics begin like this:
"Doubt is a broken record that plays inside my head.
I try to turn it down, but I can't quite drown it out.
I'm tortured every day with these never ending worries
pulling on my sleeves."
That's something we can all relate to, especially with all of the negative things that we hear on the news every day. The lyrics mention later in the song, "All anybody would tell me is all that bad news." Yet, despite the bad things happening all over the world, the chorus of the song goes like this:
"It's gonna be okay.
No matter what you've been through, here you are!
No matter if you think you're falling apart,
it's gonna be okay."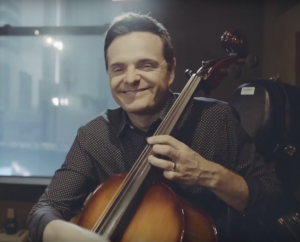 What a great message. My favorite line in the song is, "No matter what you've been through, here you are!" I think this line is meaningful because all of us have gone through really difficult challenges, and yet here we are! We're still alive, still breathing, still going. In fact, if we look back on our lives, we will probably discover that the struggles that we've gone through are what have brought us to where we are and have shaped us into the people we have become, and ultimately they have made us stronger.
If we've already come through difficult things, why should we be afraid of what will come in the future? This positive message from The Piano Guys reflects the beliefs they share as members of The Church of Jesus Christ of Latter-Day Saints. Mormons believe that all life's challenges are meant to make us spiritually stronger and that God, our Heavenly Father, is always there to help us through things. Mormons also believe that the really sad, negative things that happen in the world are most often the result of people's bad choices, which is why it's so important for each of us to make good choices. Ultimately, Mormons believe that everything will be made right when Jesus returns to the earth, and we don't need to be afraid of the future if we're doing our best to follow Jesus' good example.
Click below to see the video.