Monica Scott grew up in a musical family where she learned to play the violin and the piano at an early age. She graduated from Brigham Young University (BYU) in 2004 with a Bachelor of Science Degree in Music.
She is a stay-at-home mom who lovingly spends her time each day caring for her four children. She has always had a passion for writing music and started arranging hymns in the evenings after her kids were tucked in bed. The beauty and the softness of the music that she played made it feel more like she was playing lullabies for them and would calm them and lull them to sleep.
On 26 November 2017, Monica released a new children's Christmas song on her YouTube channel called "Starlight." Featured in the video are her four children who harmoniously blend their cherubic voices in singing the words of the beautiful song as she plays the serene melody on the piano. The message of the video is brought to life as, throughout the video, we see two of her children dressed as Bethlehem shepherds who followed the star to where the Christ-child lay.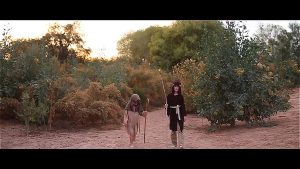 About the song, Monica said, "I had decided to write a little Christmas song just for fun for my kids. I wasn't planning on sharing it or anything- especially since I usually plan out a few months to prepare! But, once I heard that the Church's theme was #LightTheWorld, I decided that it must be meant to be, and I quickly taught my kids and my niece the song, recorded it, and had my sister make that video!"
Monica's goal in writing the song was to gear it towards younger children. To achieve her objective, she kept the chorus simple so that young kids could memorize and internalize the message of the song easily. The words of the chorus are: "Starlight Shining Bright, Lighting my way. His Light Shining Bright – forever will stay." As her children enjoy playing pretend, she wrote the words "If I was a shepherd" to create the image of the shepherds who followed the star that led them to the place where the Savior was born. The second verse puts things in today's perspective and teaches not only the children but is a message to us all, that we can get to the Savior by following His light.