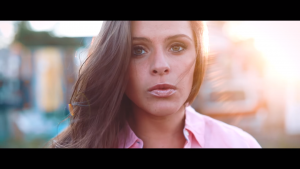 The lyrics to Alessia Cara's number one hit take on new meaning with a cover released by Peter Hollens and Nadia Khristean in conjunction with Operation Underground Railroad.
There are close to 2,000,000 children around the world forced into sex slavery. Operation Underground Railroad (O.U.R.) is an organization committed to changing that and ending child slavery. According to their website, "O.U.R.'s Underground Jump Team consists of former CIA, Navy SEALS, and Special Ops operatives that lead coordinated identification and extraction efforts. These operations are always in conjunction with law enforcement throughout the world."  As of April 2016, the organization reported 529 victims rescued and 182 traffickers arrested.
The "Scars to Your Beautiful" video features beautiful cinematography, but also a moving representation of the children who are in slavery around the world. The children shown are, of course, just actors but it's a startling realization that there are two million of these children around the world that are being used as slaves. It's hard to realize that innocent children, like the ones in the video, are being subjected to horrors beyond imagination.
Throughout the music video, there is also footage from real-world O.U.R. operations taking place. These operations take months and involve working with law enforcement and governments from around the world. It's moving to watch the outcome of all the hard work and hours that have gone into recovering victims and taking traffickers into custody.
Operation Underground Railroad was founded by Tim Ballard. He served for 12 years as a U.S. Special Agent for the Department of Homeland Security on the Internet Crimes against Children Task Force and the U.S. Child Sex Tourism Jump Team. Throughout his career, he helped to end several trafficking organizations that kidnapped children and forced them into sex slavery. But Ballard wasn't able to help all the children or rescue them if their cases couldn't be tried in a United States court, so he started an organization that could help children all over the world.
"Scars to Your Beautiful" was already a hit song before being covered by Hollens and Khristean, but their rendition could be argued as being far more moving than the original. The simple arrangement and harmony between the two voices are emotional and it's clear that the importance of this video and raising awareness about child slavery is not lost on the two artists. The storytelling of the music video is also significant and motivates the viewer to find out more and see what they can do to help.
In the description for the video, Hollens includes a link where fans can donate to O.U.R. and their efforts to end child slavery around the world.