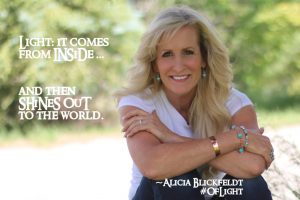 Alicia Blickfeldt, a member of The Church of Jesus Christ of Latter-day Saints (often referred to as "the Mormon Church), has a powerful voice that will transport you. She is an author, actress, creator, a two-time nominee for the Utah Music Awards, and she has been voted #1 in multiple music festivals and Internet musical ranking sites. She studied music under opera star, Hans Gregory Ashbaker, and university professor, Karen Brookens Bruestle. 
As classifications of music go, she is a classical crossover soprano but her musical preference is to sing EpiClassical. She has sung in a variety of venues, including productions with the Salt Lake Pops Orchestra, the Davis County Symphony, and multiple concert locations throughout the United States and abroad.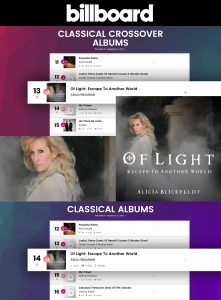 Alicia recently released her self-produced debut album, which she refers to as an EpiClassical album. The album called Of Light ~ Escape to Another World, is climbing to the top of the Billboard charts. It has already been featured on the Billboard Hot 100 Classical Crossover album chart at #13 and the Classical Album chart at #14. A recent press release describes Of Light ~ Escape to Another World as "a unique mixture of sounds comparable to Lord of the Rings, Skyrim and epic orchestral movie/gaming style music, infused with [Alicia's] powerful voice."
Her music has been influenced by Thomas Bergersen, Jo Blankenburg, E.S. Posthumus, and recording artists like Lorenna McKennitt, Sarah Brightman, and Connie Dover. Not only was she featured on the Billboard Hot 100, but her accomplishments were also highlighted in an article on LDSLiving.com and an article on LatterdaySaintMag.com. She has also been featured in Classical Crossover Magazine, alongside Celtic Women on LatterdaySaintMucians.com, and she is frequently written about in local Utah periodicals.
Alicia's production company, Beacon in Black Productions, is focused on bringing light, hope, and peace into the world. She recently released a music video featuring her song, Beacon in the Black, and according to the press release, her production team will soon be "creating multiple music videos in the medieval era space." Her future projects will include other "OF" albums in a series she has planned.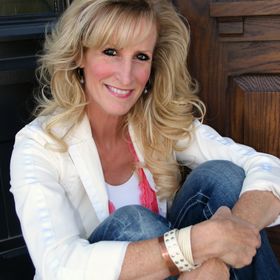 Life for Alicia Blickfeldt has not been without its challenges. In 2014, she was diagnosed with breast cancer. Her doctor prescribed the traditional protocol of chemo and radiation, but she walked away, and instead embraced a whole food, holistic lifestyle – and it worked. She published a book about it called They Said I Would Die: A journey to self-healing, which is available for purchase on Amazon. Five months later she was involved in a horrible truck accident. After being transported to a hospital, a doctor wanted to perform reparation surgery by attaching plates, screws, and wires. She asked the doctor if she would heal without the surgery. After being told that she would, she refused the surgery.
After surviving with these extraordinary experiences in her life, Alicia, who is beginning her career at a more mature age, decided that if she didn't go after her dreams, she might not get the chance. She said, "So, this is what I learned from those experiences, that DREAMS WAIT FOR NO ONE and although I'm starting my career a little late in life, I'm moving forward anyway, and you should too. It doesn't matter what you go through in life, it's what you do with the time you have left. With the time I have left, I'm going to run as fast and as hard as I can!" She continued, "My greatest desire is to make an impact! Not in my life, but in the lives of all those I can reach through music! My voice is my gift, and I want to give it to you."
The songs on her album, Of Light ~ Escape to Another World, reflect some of those struggles, which are very vivid in Alicia's recent past, including the loss of both her parents in the Fall of 2018, who passed away within 5.5 days of each other. The powerful lyrics of her song, "Barren Halls," which were influenced by her parents' passing, leaves listeners with a sense of hope and renewal. 
Alicia Blickfeldt's music can be found on iTunes, Spotify, Pandora, Google Play, SoundCloud,  and all other streaming media outlets. You can also find Alicia on Facebook, Instagram, and YouTube. Please visit Alicia Blickfeldt's Official Website.