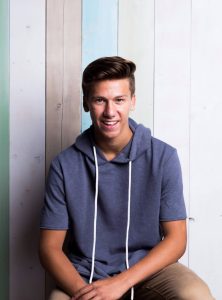 Jordan James Pinkston (his stage name is Jordan James) is a 17-year-old Latter-day Saint youth who realizes that music changes the world.
With that knowledge, Jordan James, an Acoustic, Soul-Pop singer-songwriter and pianist, is set to change the world one tune at a time, sharing his amazing musical talents, with his upbeat, positive, and inspirational original songs like "Change the World" and "One and Only Me."
Jordan is a member of the Nik Day Studios. With the help of his mentor, Nik Day, he has learned to hone his music writing skills, and shares what he has learned by teaching other students how to write music. He and Nik also collaborate on writing songs.
Jordan's autobiographical song, appropriately titled "One and Only Me," released in October 2017, is available for download and streaming on Apple Music, and for streaming on Spotify. His dynamic song "Change the World," with its powerful message, was made into a music video which was published on his YouTube channel on 24 August 2017, and as of early March 2018, it has garnered more than 2,400 views on YouTube with more than 47,000 views on Facebook.
The music video for "Change the World" shows different ways that each of us can change the world in even small ways – from being an encouragement to a friend who is possibly going through a tough time to volunteering to help others in need through donations to performing other kind acts of service to writing and performing music. The point that the video drives home is that whatever we can do to make even a small change in the world matters. And Jordan James is making an impact and difference in the world through his music.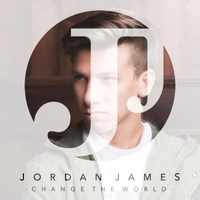 "Change the World" became the theme song for the "I Am Draper City Day" service day. He also performed the song at the swearing-in of Draper's newly-elected Mayor, Troy Walker, at Draper City Hall on Monday, 8 January 2018. Jordan's direct message of each person doing something in their own way to "Change the World" has given him opportunities to perform at charity events.  As part of The Church of Jesus Christ of latter-day Saints' "Light the World" campaign, he was invited to perform at a Food Drive Concert along with some amazing performers like Madilyn Paige, Kelsey Edwards, Motion Coaster, Ryan Rostrom, Nicole Sheahan, and Monica Moore Smith. He was also a part of the Nik Day Studios music video called "Light Up the World."
On Friday, 2 February 2018, Jordan James appeared in concert with his friend, Easton Shane Christensen (his stage name is Easton Shane), at MusicCon at the Salt Palace Convention Center Acoustic Stage in Salt Lake City, Utah. He also recently performed at the 17th Annual LDS Film Festival.
Jordan James was born in Cleveland, Ohio, and raised in North Bend, Washington, a suburb of Seattle. He started playing the piano at the age of six and took lessons up until he was 15 when he started pursuing writing songs on the piano. With a passion for playing basketball, it wasn't until after his sophomore year of high school that he decided that he wanted to become a full-time musician. He hopes to eventually release an EP of his music.