Jon Schmidt is a prominent Mormon (LDS) musician, Mormon Maverick, Classical & New Age Pianist, and resident of the Salt Lake Valley.
Jon's music–a blend of New Age, Rock 'N Roll, and classical styles–has captivated young and old. From eager-eyed children to energetic teens to post Baby Boomer, Jon attends to diverse musical audiences and affinities. His work crosses the bridge of generations and spans those of many religious groups. His music reaches to all, not just to other Mormons.As M. Durrell from Kansas states, "[Because] my husband AND my grandchildren enjoy Jon's music — it states volumes of the reach to all ages…" If you've ever listened to Jon or heard one of your children play Waterfall or any of his selections, you know that his piano music evokes thoughts of nature, combines a New Age feel with a fresh energy and his live performances add an infused acrobatic flexibility, statements of values and personal anecdotes that render his musical performance and his original works personal and meaningful. Jon, as a Latter-day Saint, is devoted to God first, then his family, and to both of them through his music. His priorities are clear and his music is a reflection of those priorities.
Jon didn't begin with a music major in mind, though he was playing Mozart Sonatas and composing original tunes at just 11 years of age. Cautious about being able to provide for his family, he majored in English, thinking he'd move on to an MBA. Guided differently, as his benefit shows cast a light on him that was not too soon dim, he took a leap of faith, "rented out the largest concert hall in Salt Lake City and presented his own concert." Jon is now both a happily married father of five and a successful musician. Per Soundclick.com, "Because of Jon's strong musical appeal, his sheet music continues to touch the new crop of fresh pianists. As thousands will attest, the "kid tested, parent/teacher approved" outcome illustrates why Jon's seven volumes of musical scores fly off the store shelves. He has inspired teenagers to stick with their piano lessons and children to try it for themselves. Who would think that a New Age artist would have the teenyboppers of today raving about the "awesome" music?"
Seven albums later, Jon's Christmas concerts are a sell-out, legendary fare, and Jon appears at numerous benefit concerts around the Valley and throughout the country. Soundclick.com further comments, "In a time where music is becoming more about a brand to sell, Jon Schmidt is a breath of fresh air. Jon Schmidt is creating pure music that does not bow down to genre and image but rather rises above them to bring the listener an innovative music experience."
Jon Schmidt's Bio on The Piano Guys' Website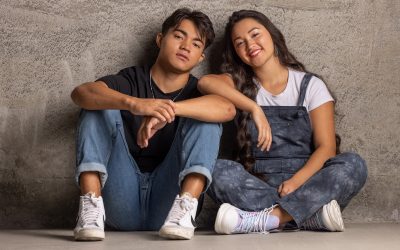 Utah siblings Ammon (19) and Liahona (18) Olayan whose heritage is rooted in Hawaii, are the two oldest of nine siblings. In addition to writing music and singing, Liahona is a self-trained pianist and Ammon plays guitar and ukulele. Ammon is also a Brigham Young...