Leigh Adrian Harline was an Academy Award-winning film composer and songwriter. He was born on 26 March 1907, in Salt Lake City, Utah. He was the son of soldier Charles Härlin and Jahanna Matilda Härlin. He was the youngest of 13 children. His parents came from the village of Härfsta in Simtuna parish, Sweden. They were baptized members of The Church of Jesus Christ of Latter-day Saints in 1888, and moved to Salt Lake City, Utah in 1891. Once in the United States, they changed their surname to Harline. Leigh was baptized a member of the Church at age eight.
He attended Granite High School in Salt Lake City, Utah, and later studied at the University of Utah. After graduating from the University of Utah, he studied piano and organ with Mormon Tabernacle Choir conductor, J. Spencer Cornwall.
In 1928, he moved to California and worked as a composer, conductor, arranger, instrumentalist, singer, and announcer at radio stations in San Francisco and Los Angeles. He arranged music for the first transcontinental radio broadcast to originate from the West Coast in 1931, and was then hired by Walt Disney in 1932, where he scored over 50 tunes, including tunes for the Silly Symphonies cartoon series in the 1930s. He became well known for his "musical sophistication that was uniquely 'Harline-esque' by weaving rich tapestries of mood-setting underscores and penning memorable melodies for animated shorts and features."
He won the Academy Award for Best Original Music Score and the Academy Award for Best Original Song for "When You Wish Upon a Star," featured in Disney's classic film Pinocchio (1940). The tune later became the theme song for the Disney television series, The Wonderful World of Disney.
Leigh worked with Frank Churchill, Larry Morey, and Paul J. Smith on such Disney film tunes as "I'm Wishing," "Whistle While You Work," "Heigh-Ho," and "Some Day My Prince Will Come" in Disney studio's first animated feature-length cartoon Snow White and the Seven Dwarfs in 1937.
In 1940 he joined the American Society of Composers, Authors and Publishers (ASCAP). In 1941, he left Disney to compose for other studios. His impeccable list of credits includes Road to Utopia (1945), Nocturne (1946), The Bachelor and the Bobby-Soxer (1947), The Boy with Green Hair (1948), Mr. Blandings Builds His Dream House (1948), Monkey Business (1952), The Desert Rats (1953), Good Morning, Miss Dove (1955), 23 Paces to Baker Street (1956), Ten North Frederick (1958), The Remarkable Mr. Pennypacker (1959), The Wonderful World of the Brothers Grimm (1962), and 7 Faces of Dr. Lao (1964).
Leigh was also nominated for Academy Award for Best Original Musical (1943, 1944). He received his first Oscar nomination for "Someday My Prince Will Come." He was nominated for Oscars for scoring The Pride of the Yankees, Johnny Come Lately, and The Wonderful World of the Brothers Grimm. He also composed for television, including series Ben Casey and Disney's Daniel Boone. His other popular song compositions include "Hi-Diddle-Dee-Dee," "Give a Little Whistle," and "Jiminy Cricket."
He died on 10 December 1969, in Long Beach, California, from complications from throat cancer, and is buried in Valhalla Memorial Park Cemetery. He was inducted into the Disney Legends in 2001.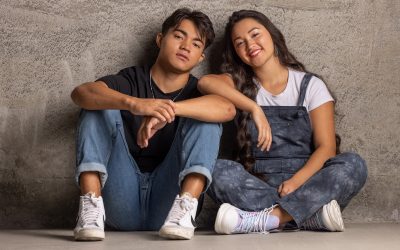 Utah siblings Ammon (19) and Liahona (18) Olayan whose heritage is rooted in Hawaii, are the two oldest of nine siblings. In addition to writing music and singing, Liahona is a self-trained pianist and Ammon plays guitar and ukulele. Ammon is also a Brigham Young...