Wikipedia has a page called "Songs Written by Tony J. Martin," with links to a page for each song. Any songwriter would feel like he had arrived with that kind of coverage. Tony probably had an inkling he might be able to quit his day job, when he recognized a number 1 song as his own.
Tony was born and raised in the South. His father was a songwriter, but Tony aspired to be a journalist and headed to BYU to make that dream come true. With a degree in journalism in hand, he landed a position in Chicago with Time Magazine. While he was there,  country star George Strait recorded the tenth song Martin wrote (with his brother Troy), "Baby's Gotten Good at Goodbye." The song's success caused Martin to realize he had a future in songwriting, and he (and his wife, Amethea) moved back home to Nashville.
Tony worked as a correspondent for the Tennessean while he transitioned from journalist to songwriter. He was working a job as a weed eater while listening to music on headphones when he recognized the number one song being played as his own. He usually collaborates with other songwriters and doesn't actually read music. He signed an exclusive contract with Sony/ATV Music Publishing in 2001. Martin was nominated for the 2002 Roughstock Country Music Awards as Songwriter of The Year. He is a member of BMI (Broadcast Music Incorporated).
Over 13 of Tony's songs have hit No. 1 on the country charts, include George Strait's hit, "Go On" and Tim McGraw's classic, "Just to See You Smile."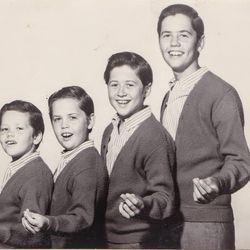 Olive Marie Osmond (Marie), the only daughter of the late George Virl Osmond, Sr. and Olive May Osmond (nee Davis), celebrated her 60th birthday on Sunday, 13 October 2019. Her brothers are Virl, Tom, Alan, Wayne, Merrill, Jay, Donny, and Jimmy. Her two oldest...