Joe Bennett was a native of Spartanburg, South Carolina where he grew up in the Cannon's Campground community and attended Cowpens High School. He developed a love for music at an early age and took private guitar lessons from the late Jerome Fowler who once taught the legendary Hank Garland. As a child, Bennett started a band called The Jamborettes.
In 1956, while still in high school, he formed the rock and roll band that came to be known as the Sparkletones, which is now enshrined in the Rockabilly Hall of Fame. The band members, ranging in age from 13 to 16 at the time the band was formed, included: Joe Bennett, the eldest of the group, on guitar, Wayne Arthur on bass, Howard "Sparky" Childress on guitar and Jimmy Denton on drums. In January 1957, Bob Cox, a talent scout for CBS, held auditions at the Spartanburg Memorial Auditorium, and The Sparkletones took first prize at the event. Convinced they would be a success, Cox quit CBS to manage the group and flew them out to New York City to sign with ABC-Paramount. Their big hit was the song "Black Slacks." They toured, appeared on the "Ed Sullivan Show" and even met Elvis Presley.
Joe Bennett, the well-known leader of the Rockabilly group often billed as Joe Bennett and The Sparkletones, passed away on Saturday, 4 July 2015 at the Rainey Hospice House in Anderson, South Carolina at the age of 75. He had been suffering from complications related to Parkinson's disease and Lewy body dementia as a result of being exposed to the chemical Agent Orange while serving in the Air Force during the Vietnam War. Not only will he be remembered as the leader of the Sparkletones, but he will also be evoked for his work and passion as a teacher.
Follow Joe Bennett and The Sparkletones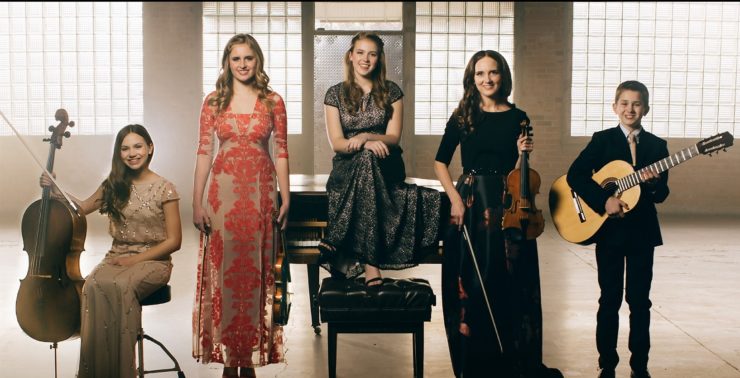 Jenny Oaks Baker, her husband Matthew, and their four children (Family Four), are from Salt Lake City, Utah. Dubbed America's Violinist, Jenny is a Grammy Nominated, Billboard No. 1 performer and recording artist. She has released 19 studio albums which have sold...